📲 Buy Apple?
and cheap holiday destinations
Personal finance + economics + markets

Good morning, investors! We saw some minor movements in the market and Apple ruled the charts. Also, Bitcoin crossed the $27,000 mark after over a month only to fall again.
Fun fact: The stock market is more likely to go up than down. For instance, in the last 100 years, the Dow Jones Industrial Average (DJIA) was up 70% of the year. And in the last 40 years, the Standard & Poor's 500 (S&P500) was up 77% of the years. But the problem is that… we don't know when that's gonna happen.
Homebuilders aren't happy.

Apple set for a boost.

Go here this Christmas (cheap holiday destinations).
Homebuilder sentiment is now negative
For the first time on about seven months, homebuilder sentiment is negative.
Builder confidence in the single-family housing market fell 5 points in September to 45.
Current sales conditions fell 6 points to 51.

Sales expectations in the next six months dropped 6 points.

Buyer traffic decreased 5 points.
What does it mean? It indicates builders aren't very optimistic about the business. 😔 
As a result, they are making changes to the business model to attract more people. 😃 
What to expect? Expect greater incentives such as reduced prices. 🏠
Why is this happening? Due to high mortgage rates and reducing purchasing power.
The average price cut was 6%.
"High mortgage rates are clearly taking a toll on builder confidence and consumer demand, as a growing number of buyers are electing to defer a home purchase until long-term rates move lower," said Robert Dietz, NAHB's chief economist.
Global hits:
S&P 500 4,453.53 (0.072%)
DJIA 34,624.30 (0.018%)
NASDAQ 15,225.37 (0.15%)
VIX 14 (1.52%)
* Prices as of Sep 19th, 12:20 AM UTC
Time to invest in Apple?
Apple had a good day on Monday. Shares closed +1.69% at $177.97.
Also, the company announced big annual updates on Monday for anyone with an iPhone released in 2018 or later.
What does this update mean?
The update brings improvements to different tools, including Safari, the Phone app, and Messages.
Experts, including Goldman Sachs and Wedbush, report that demand for the latest iPhone is outstripping supply. This is a good sign. ⬆️
Bitcoin $326,782.60 (0.79%)
Ethereum $1,638.33 (0.96%)
Total market cap $1.07 (1.2%)
* Prices as of Sep 19th, 12:20 AM UTC
South Korea looking to regulate OTC cryptos
The country is concerned over the usage of OTC crypto trades for illicit transactions, including money laundering.
"Illegal virtual currency OTC companies have overseas corporations and are engaged in the business of converting illegally obtained virtual currency into Korean won or foreign currency. There is a need to regulate these companies as undeclared virtual asset trading businesses," said a report originally published in Korean.
The value of unlawful foreign exchange transactions made using cryptos is said to be close to $4 billion in the country.
10 cheap Christmas holiday destinations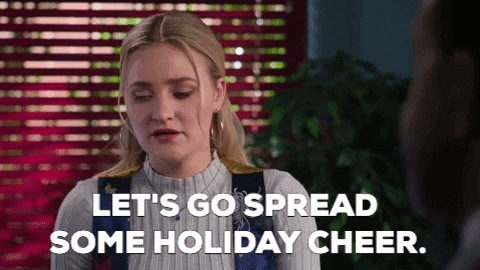 Gif by abcnetwork on Giphy
Europe is getting expensive and crowded. In fact, most Europeans are looking to branch out and go elsewhere to enjoy the X-mas season.
We encourage our subscribers to save money but we can't neglect the importance of holidays. They bring people together, are good for mental health, and can help you rejuvenate.
How much to spend on holidays? About 5-10% of your net yearly income.
This means $5,000-$10,000 if you earn $100,000 net per year.
It's important to budget for holidays. If you can save up and pre-pay for vacations, it not only reduces stress, you can get a lot of good deals paying in advance.
So, what destinations can you visit in this budget? Here are our top picks.
This Eastern European country is not only cheap but also full of incredible beaches and great food. In December in Albania, the average air temperature ranges from 13 °C (55 °F) during the day to 6 °C (43 °F) at night. There are 12 days of rain on average, where the rainfall is 186 mm (7.34 in).
Hotels cost less than $50, food will cost you $5, and beer under $2.
Turkey has long been people's favorite and Istanbul is one of the most visited countries in the world. Though not as cheap as it once was, Turkey can still be done on a budget, especially if you earn in USD or other strong countries since Lira has taken quite a beating in the last few months. The country, however, can get cold in December but if you're from the US then it will not be a problem.
Hotels cost less than $100, food will cost you $10, and beer under $3.
From $3 shakshuka breakfasts to $1 fava bean falafel wraps, Egypt is very affordable. However, it isn't a traditional Christmas destination as the country is hot even in December and X-Mas themed events aren't very common. However, beach towns are exciting and there's a lot for fans of history.
Hotels cost less than $50, food will cost you $4, and beer under $3.
Mexico is generally warm in December, especially in the coastal and lowland regions like Cancun, Puerto Vallarta, and Playa del Carmen. These towns attract a lot of tourists but big cities also have something to offer for people of all ages. With cheap flights from the US, Mexico can be a great holiday destination this Christmas season.
Hotels cost less than $100, food will cost you $10, and beer under $4.
Those who do not want the hustle bustle of Christmas can turn to Kenya, an African gem with affordable hotels, food, and tours. December 25 is a public holiday in Kenya but don't expect major celebrations. You can relax at the beach or explore wild life here.
Hotels cost less than $80, food will cost you $8, and beer under $4.
"If you're prepared to invest in a company, then you ought to be able to explain why in simple language that a fifth grader could understand, and quickly enough so the fifth grader won't get bored."
Peter Lynch
What did you think of today's newsletter?
👩🏽‍⚖️ Legal Stuff
Nothing in this newsletter is financial advice. Always do your own research and think for yourself.